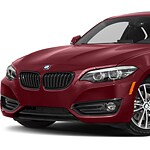 With its popular lineup of convertibles and coupes, the newest BMW 2 series is designed to please. This entire line of luxury vehicles consists of a single convertible and three different coupe trims. You can build yours to your desired specifications to get a luxury car that is unmatched in style and power.
The lineup comes with an impressive 2.0-liter inline four-cylinder engine with an eight-speed transmission. Its engine features electronically controlled cooling and combines a twin-scroll turbocharger with variable valve control. The series' lineup also features a seven-speaker high-quality audio system that comes with its own anti-theft technology. You also get a subscription trial to Sirius XM radio when you choose one of these series coupe or the convertible for your own.
Ensuring that the BMW 2 Series is the right lineup of cars for you is simple. Take any of them out for a test drive to find out.